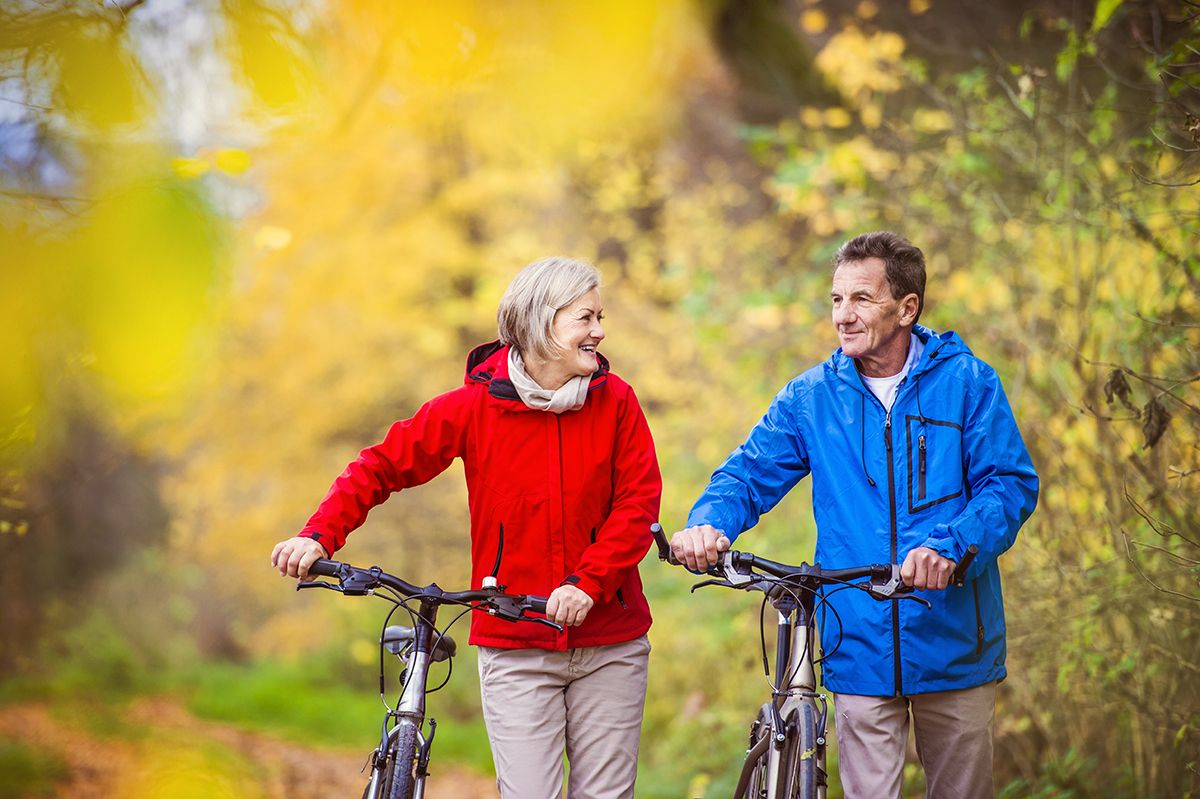 How to Keep Your Relationship Healthy in Retirement
Six Tips for Keeping the Spark Alive During this Chapter of Life
When you and your partner have spent your whole lives working, it's natural for retirement to change the dynamic of your relationship. Just as with the financial aspects of your retirement, it's important to plan ahead to keep your relationship healthy in this phase of life, too. You might have a fantastic financial advisor and all the money in the world, but if you haven't taken into consideration how retirement will impact your relationship – and vice versa – then you're missing a crucial part of retirement planning.
Below we'll share six retirement and relationship tips to help you fully enjoy this phase of life with your spouse or partner and thrive together in your dream retirement.
Communication is Key
Relationships take work in the best of times, but it's important to lean in during life's transitions. As you enter retirement, open and honest communication is the best way to ensure that you and your partner stay connected and are on the same page. While you don't have to spend all your time together, you should still share your days with one another and make sure that you make a concerted effort to listen to your partner when they talk with you about how they're spending their time. If you're feeling less connected than you'd like, talk it through and brainstorm ways to get more in tune. You might take up a new hobby together, for instance, as a way to demonstrate your commitment to staying connected with one another.
Double-Down on Compromise
Conflict is a normal part of any relationship, and it's even considered healthy to argue sometimes. It's how you and your partner tackle conflicts that make all the difference. When you're still getting used to the retired life, both individually and as a couple, you may face new disagreements as you navigate the transition away from the working world. Try not to approach conflicts with a 'right or wrong' mindset, and commit to truly listening to what your partner is saying. There is usually no perfect resolution, so remember to exercise your compromise muscles frequently and approach any issues that arise collaboratively as a team.
---
SEE ALSO: Five Financial Tips for Your Second Marriage
---
Don't Neglect Respect
Maintaining a healthy relationship in retirement requires respecting your partner's time, heart, character, and trust. Make an effort to speak kindly about and to your partner, show interest in their hobbies and passions, and build them up if they're struggling. Especially in retirement, showing respect can mean respecting your partner's boundaries if they need time alone. Relationships are living, breathing things – you've got to make sure you're nurturing and investing in it if you want to see it continue to thrive.
Support One Another
You already know that one of the best ways you can show up for your partner is by giving them support in times of need, and you've probably faced many challenges together by the time you reach retirement. We are primed during our working lives to view this phase of life as leisurely and enjoyable, but in truth, retirement can be an uncomfortable and disconcerting time in someone's life. This can be especially true if a person's identity is wrapped up in their work or if retiring means losing many of their most validating social connections. Make time to listen and be there for your partner, validate their feelings and help them work through issues of concern. Be sure to keep your support judgment-free and re-iterate the confidence you have in the two of you tackling retirement's challenges – and joys – together.
---
SEE ALSO: Family and Finances: Tips for Discussing Money and Retirement with Your Loved Ones
---
Patience is a (Retirement) Virtue
If you've ever planned a wedding or added a new baby to the family, you know first-hand that even positive life events can bring a significant amount of stress and strain. The same can be said about retirement. Even after the most meticulous planning, finally entering this new chapter of your life can introduce a lot of unexpected feelings and emotions. As often happens in challenging times, it's tempting to take it out on your partner, so take special care to be kind, to treat one another with compassion, and to give your spouse or partner the benefit of the doubt as you both adjust to this new lifestyle. Even if just one of you has retired, it's still a significant transition for you both.
Stay Curious
After spending a life together, it can be easy to assume that you know everything there is to know about your partner and vice versa. However, getting complacent or losing interest in one another is one of the surest ways to see your relationship begin to break down. Be proactive and stay curious about each other. Retirement offers new space and opportunity to change and grow, and you might just find that your partner surprises you. After all, if you've each spent a majority of your time at work and away from one another for decades, there can be plenty of things about your partner that you haven't seen and don't know. Find creative ways to support and encourage each other to keep your retirement exciting and adventurous for both of you.
Concluding Thoughts
Your relationship has a significant impact on the quality of your life during any phase, and retirement is no different. Ultimately, whether you have an enjoyable 'dream' retirement or one fraught with boredom or other challenges can have a lot to do with your relationship with your spouse or partner. Plan ahead to tackle your relationship obstacles together, and commit to putting in a serious effort to developing and maintaining the health of your relationship during this new phase of life. Even though it can be a disconcerting life transition in many ways, retirement is the perfect opportunity for you and your partner to reconnect and find new and exciting ways to enjoy one another's company.
---
This information is provided and intended to be used for general educational and informational purposes only and is not intended as a solicitation for you to buy or sell any financial product. This information is not mean to be relied upon as actual financial or tax advice. The ideas, thoughts, and strategies presented here are those of the Management Team and provide an insight to our views at Peak Financial Freedom Group, LLC and its affiliates. None of this information is intended to give you specific tax, investment, real estate, legal, estate, or financial advice. The planning and ideas in this data are not suitable for all individuals or situations. Consult a qualified financial professional before making any investment decision.
All research information provided is public source material. This material may also include additional references to articles, news, commentary, opinions, viewpoints, analyses, and other information developed by Peak Financial Freedom Group and/or affiliated and/or unaffiliated third parties, which is subject to change at any time without notice. Information and opinions provided by third parties have been obtained from sources believed to be reliable, but accuracy and completeness cannot be guaranteed. Peak Financial Freedom Group and its affiliates are not responsible for errors or omissions in the material and do not necessarily approve of or endorsed the information provided. This information is provided "as is" and no party makes any representations or warranties of any kind either express or implied, with respect to this information. Peak Financial Freedom Group, LLC and its affiliates do not warrant the information provided to be correct, complete, accurate or timely, and is not responsible for any errors or omissions in the information or any investment decisions, damages, or other losses resulting from, or related to, use of said information. The ideas, thoughts, and strategies presented here are those of our management teams and provide an insight into our views on Peak Financial Freedom Group, LLC, and its affiliates. Every detail presented here is subject to change without notice at any time.