The 3 Bucket Approach To Investing For Retirement
When it comes to retirement, most retirees want less risk, smaller losses, to earn a reasonable rate of return, liquidity, and income that is guaranteed for life.
That's why we created our 3 Bucket Approach, using multiple conservative asset strategies.
Bucket Number 1 is for safety and liquidity: the bank. These funds are protected against stock market losses, are liquid, but won't earn a high rate of return.
Bucket Number 2 is for safety, competitive returns, and guaranteed lifetime income: a fixed index annuity with an income rider. Funds are protected against stock market losses, income is guaranteed for life, and you can earn part of the index gains.
Bucket Number 3 is for growth focused on risk mitigation: an asset management program with a stop-loss program. Your funds have the opportunity for growth, but the number one goal is reducing large stock market losses.
By using these three buckets, you can control how your money is used, potentially reducing your risk, receiving dependable income for life, and keep some assets liquid for immediate access. If you want to learn how to use the 3 Bucket Approach, call us today.
---
You may also be interested in this recent video from our Whiteboard Series.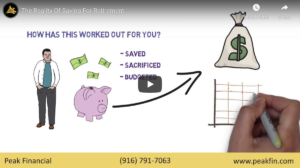 ---
If you want to learn how indexing can help you, please contact us today.
916-791-7063
You might also like to learn more about our book Momma's Secret Recipe for Retirement Success
DISCLOSURE – All presentation data is provided and intended to be used for general educational purposes only and is not intended as a solicitation for you to buy or sell any financial product. None of the material in this presentation is intended to give you, nor are the presenters engaged in giving you, specific tax, investment, real estate, legal, estate, retirement, or financial advice, but rather to serve as an educational platform to deliver information; nor is it intended to show you how the strategies presented can specifically apply to your own tax, investment, estate, financial, or retirement position, but rather to offer an idea of how these principles generally may apply. Stocks, bonds, or mutual funds have risks and can lose principal, even with a stop loss, and there is no guarantees of gains, as past performance is not indicative of future positive investment results. The sale or liquidation of any stock, bond, IRA, certificate of deposit, mutual fund, annuity, or other asset to fund a new portfolio and/or annuity may have tax consequences, early withdrawal penalties, or other costs and penalties as a result of the sale or liquidation. You can't invest directly into a stock market index. A fixed index annuity with an income rider can protect your savings from losses and provide you guaranteed lifetime income, but you could incur surrender charges, gains aren't guaranteed, you'll pay a fee, and guarantees are backed by the financial strength claims paying ability of the issuing annuity company. Illustrations/projections displayed within this presentation are hypothetical in nature and should not serve as the sole determining factor in making financial decisions. Consult with a qualified investment, tax, legal, and/or retirement advisor before making any decisions. By contacting Peak Financial Freedom Group, you may be offered additional information regarding the purchase of financial products. Seminars, radio shows, TV productions, book releases, magazine and book promotions are sponsored, promoted and paid for by Peak Financial Freedom Group, LLC. If you place assets under management with our firm, we are paid an advisory fee, and if you purchase an annuity from our firm, we are paid commissions from an insurance company.
Investment Advisor Representatives of and Advisory Services offered through Fiduciary Solutions, LLC, a Registered Investment Advisor. Peak Financial Freedom Group LLC is primarily a fixed insurance sales organization and provides no Advisory Services. PFFG Insurance Agency LLC, CA License #0N14013, is a licensed insurance agency and provides no Advisory Services. Peak Financial Freedom Group LLC, PFFG Insurance Agency LLC, and Fiduciary Solutions LLC are separate affiliated entities. Insurance products and services provided by PFFG Insurance Agency LLC and independent agents. Jim Files CA Insurance License #0F06511 Dan Ahmad CA Insurance License #0732913
Peak Financial Freedom Group ∙ (916) 791-7063 ∙ www.peakfin.com 2520 Douglas Boulevard, Suite 110, Roseville, CA 95661